Every time I think of pivoting it reminds me of that Friends episode- the one where Ross buys the sofa- and they are trying to get it up the stairs with him shouting 'PIVOT'!!
But what on earth is pivoting in business? According to a recent Forbes article, it's where you change the direction of your business when you realise 'the current products or services aren't meeting the needs of the market.' This is usually to bring in more money or for the business to survive.
But what else can it mean? I have noticed more and more that pivoting in the online world is about moving from offering something different- it's about how YOU show up as the Authority. For example- I pivoted from being a Certified Online Business Manager (OBM) - managing coaches businesses, to becoming an online strategist- teaching, coaching and mentoring others to simplify their business.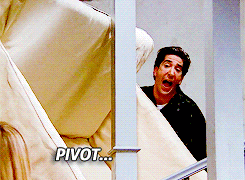 What can influence pivoting in business?
It could be because what you currently do doesn't serve you and the lifestyle you want to lead. For example, working with clients 1:1 as an OBM and growing my business couldn't get me to my 10-year business vision, without becoming an agency.
It might also be because what serves you doesn't light you up. So for example, I left my career in education and after 18months realised that I missed teaching. It is a strong part of who I am, and most definitely my zone of genius. So pivoting was right for me- because growing a business that you don't love is very rarely going to work.
So, based on my experience- and that of my clients, I'd like to share my top 3 considerations when thinking about pivoting in your business.
1. Are you doing it for the right reasons?
Do you love what you do? If it's a yes, then think about why you want to move away from it. Is it because you have too many clients? If so, bring on support. Is it because you have bad clients? If so, bring on new clients and fire the bad ones (your business- your rules remember). Don't have enough time? Revisit your boundaries- do you need to check in with yourself about how you are working?
If it is because you have that 'feeling' and have done for some time, that this is not the job for you then keep reading.
2. What will you move to?
Now you need to seriously consider what your next move is. You need to do your research too- same as you did when you first started out. How can you 'try out' what you want to do, to make sure it is a good fit? Once you know exactly what it is you want to do, could you offer a free version to someone you know? So you can make sure you REALLY love it? When I left my university career to become a teacher I volunteered at my local college and then became a TEFL teacher in China- just so I knew what it was like a day in and day out.
My key point is that you need to be clear that pivoting is going to lead you to greatness to meet your vision and purpose, not because of another underlying problem.
3. Make a pivot plan
This is from experience, trust me. Once you are clear on what you are pivoting to, make a plan. You want to gradually build out your new offer and let go of the old. This will involve starting almost from scratch- relaying new foundations on what you have already built.
There are possibilities here too- if there is some similarity in what you are going to offer, can you transition some of your clients to your new offer? Could you become entrepreneurial at a whole other level and have someone else run your current business whilst you set up a new one? A bit like having your cake and eat it!
Whichever path it is- make sure you have a clear and well thought out plan in place based on milestones- as this won't be easy without it!
So, now you have my top tips- go forth and pivot (or not) but remember this- our businesses are always evolving- as are we- so make sure that your decisions are in line with your vision.
If this is something you are seriously considering, and you don't know where to start, get help. I have worked with clients on their pivot plan in my Simplify in a Day- a 4 hour 1:1 intensive with a follow up detailed 90-day plan- unique to your business.